Your New Year's Resolution: Safe Smoke Detectors
Safe Smoke Detectors
As you make your plans to exercise more or do daily acts of kindness (or whatever is on your resolution list this year!), you should also add a task to clean and test your smoke detectors.
Smoke detectors are one of those things that are easy to forget about since you never use them until there's an emergency. But did you know that smoke detectors have a lifespan of about 10 years?  After that, they should be replaced.  This lifespan is even shorter if you haven't been doing regular maintenance on your system.
Keep it Clean!
Dirty smoke detectors not only shorten the life of the devices, but can also cause false alarms. Because they are often in hard to reach places, smoke detectors probably aren't dusted and cleaned like the rest of your house. And pets make the issue even worse. Fur and dander can accumulate inside the chamber and reduce the effectiveness as well as set off the detector even when nothing is wrong!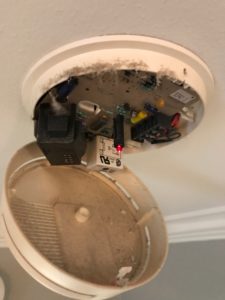 Homes with pets should plan to clean the detectors every few months, but everyone should include cleaning twice a year. If your smoke detectors are monitored or programmed in to the alarm system, the panel will typically alert you if there are maintenance needs on one of the devices. The best way to clean the detectors is to vacuum the inside and thoroughly wipe down the outside. Use one of the attachment pieces to your vacuum or a handheld unit to remove any accumulated dust or particles. Then wipe down the whole unit with a cloth dampened with a cleaning agent.
What the BEEP!??!
It's like a bad horror movie – that beeping noise that you can't identify the source and it never stops! Most likely the beeping is your smoke detector letting you know the battery is low. Many people who have hard wired smoke detectors don't understand the beeping because their system is powered by electricity.  What they may not realize is that even the hard wired units have a battery as a back-up in case of a power outage.  That may be what is causing the beeping!
While you should absolutely change your battery on the detector as soon as the beeping starts, this is task that you should do proactively without waiting for the indicator. Just like with the cleaning of the detectors, plan to change the batteries on all devices every six months.  While this may seem very frequent since battery life is typically way longer than that, it is worth the 100% peace of mind you get from knowing the system will work if you need it. And if the battery is still good, you can always reuse it in a different, less critical, game or device!
Put it to the Test
The best way to have confidence that your fire system is working as it should is to do a monthly test. Two things to note:
First, if your alarm is monitored, always call your alarm company and put the system on test for the time you will be testing your alarm. You will need to know your alarm password to do this. A fire alarm is an automatic dispatch of the fire department, so if you don't put the system on test, you can expect them to show up! Some jurisdictions charge for false alarms so this is an important step!
Second, be prepared for a very loud siren when you test the system. Since you will be right near the detector when it goes off, it will be extremely loud. Be sure to wear some kind of noise cancelling headphones or other ear protection. And warn everyone else who is home as well to cover their ears.
How you test your system depends on what kind of devices you have. Some have a button on them that you push to set it off. Others require a magnet placed up against it to run the test – these will have instructions of where to place the magnet. If your detectors are tied in to your alarm system, you can silence and reset the system through your keypad. Standalone detectors will silence themselves after a short period.
We Can Help!
Mark your calendar now to clean, test and change the batteries on your fire system on a regular basis. If you need to add a fire system to your home, Cultris Security can help. Call us at 281-506-8466 or reach us online.
Summary
Article Name
Your New Year's Resolution: Safe Smoke Detectors
Description
Keep your home and family safe with regular maintenance and testing of your fire alarm system.
Author